"Living at the Whiteheads Zoo was provided with a sample free of charge from Oriental Trading. We provided our honest opinion about our experience with the products below. Yours may be different. No other compensation was received for this review. "
This year we wanted to try something different for our classroom Christmas party . We decided to do a snowman breakfast the week before Christmas break. The kids and I were so excited about the breakfast and all things snowman. We made some cute
snowman crafts
to decorate around our classroom and hallway. Shopping was so simple thanks to Oriental Trading.
Our students are to young for hot chocolate. We decided to do milk and orange juice for them instead.
Oriental Trading
had some adorable snowman cups with straws that were perfect for our toddlers. They LOVED them. I loved that the cups had lids and straws making them easy to use, plus after our breakfast they got to take them home as an extra treat from their teacher. AWESOME!
Oriental Trading even had cute plates, napkins , tablecloths they even have plastic silverware. Everything you need to set your table for breakfast , or another meal. They had a huge selection of
holiday party supplies
and even
stocking stuffers
for our kids. This time of year is so busy I was thankful that I did not have to make a lot of different stops for our party. Oriental Trading shipped all of our supplies right to my home. Then a stop by the grocery store and we were almost ready for the party.
For the breakfast we served mini pancakes. We set 3 mini's on the plate, a piece of a bacon across the neck for a scarf, mini chocolate chips for eyes and buttons and topped it off with whip cream. We also made snowman doughnuts white powdered doughnuts with chocolate chip eyes and a mini carrot nose. We added mini marshmallows and a sausage link. The kids did so well. They all ate and ate several of them asking ofr more. SUCCESS! They loved this class breakfast time.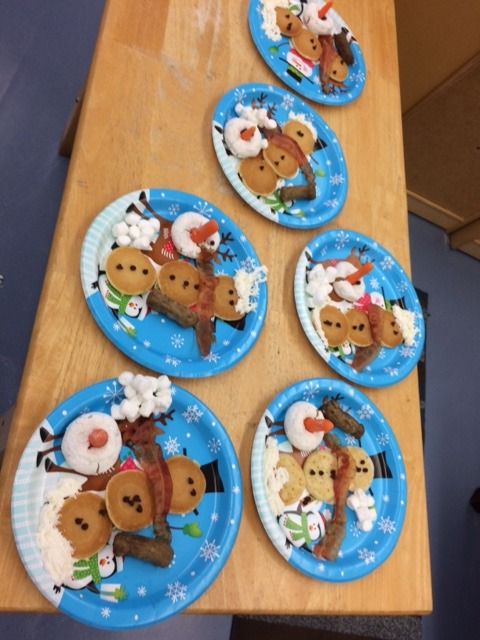 We had so much fun planning, preparing and sharing this party with our class and coworkers. I would definitely do another fun snowman breakfast. Thank you Oriental Trading for having all of our party needs and craft needs for the holidays. Shopping in just one of two stores keeps things so easy and stress free. We love stress free.
At the end of the party we took photos with our class snowman Frosty. He's been hanging out in the classroom this month waiting to make some memories with the class. They made for some really cute photos. I can't wait to print them all up for us. Oriental Trading had the snowman as part of their online holiday items. As you can see Frosty was a great size he looked larger than life to those little two and three year old children. I heard snowman a million times last week as they pointed him out, or ran to hug him or even smack him. We like to have fun around there.
The kids and teachers had a fabulous time doing a snowman breakfast this year. Can't wait to pick an end of the year theme maybe a luau .